Category Archives:
Family
I love games.  Games that require thought, shuffling, rolling dice, spinning a spinner, turning over a sand timer, or leaning over to move a game piece.  It's a dying pleasure. Board games and cards have been replaced by Apps. The personal interaction has transformed to a virtual world of screen names and avatars.  Apps are great and playing with family and friends all over the world is awesome, but it's not the same as gathering together with snacks, music, conversation, and laughter.
I spent a lot of nights at my grandma's house with my cousins.  Apart from arguing about who would get the primo sleeping spot under the dining room table (I never won that argument), we played Uno. The best games were the ones that lasted hours.
Another favorite was Monopoly (until my husband sucked all the fun out of it.  He has great potential as a loan shark.) I lived two doors down from my cousin and we'd play Monopoly during the summer.  One game lasted a week.  We had the patience and dedication to keep coming back to it, day after day, until we finished.  I can't imagine my kids doing that now.
My cousin's family loved games. We'd sit around the table, eating chips, while the adults played "Twenty Questions."  They always laughed so much. I realize now that a lot of that laughter was at the suggestive nature of some of the questions.  A dirty mind is a terrible thing to waste.
That same cousin and I played a lot of games together, too.  We loved to play Scattergories, Trivial Pursuit, and Life.  The game of Life is especially precious to me.  Near the end of her life, my great-grandmother came to live with my paternal grandmother.  My cousin and I would go stay with Mamaw when Grandma wasn't home and I always brought Life.  My cousin and I would play in the floor for hours while Mamaw sat in her chair and watched.  We didn't talk to her much and we felt guilty.  We were there for her, but we just sat and played games.   We were only 12 and didn't yet understand the concept of loneliness or the joy of children.
When I watch my children play, it takes me back to my childhood.  I remember what it felt like to have no other care in the world than who was going to win a game of Uno.  I remember how effortless it was to play Twister.  When I watch my children play, I marvel at their intelligence, their joy, their existence.  I delight in them. My Mamaw, sitting in her chair watching her two great-granddaughters play Life, laughing, and chattering probably felt the same way.  I imagine her thinking about her children, her grandchildren, and her great-grandchildren.  About her Life.  We needn't have felt guilty.
While we were playing Life, she was enjoying the fruits of hers.
———————————————–
This is a revised version of an earlier post.  I'm linking up with the Yeah Write Summer Series.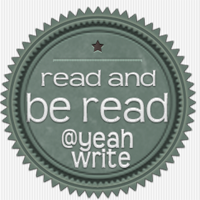 Kids birthday parties are stressful. Like most moms, I want my kids to feel special on their birthdays. Unfortunately, there are some moms out there that make this extremely difficult. You know the ones I'm talking about. They rent gigantic bouncy houses, treat their girl and her twelve friends to a spa day, rent a pony, and other ridiculous stuff like that. I handled the stress pretty well on the last birthday. I rented a cabin and we had a sleepover by a lake. There was a pool. I thought it was wicked cool and the girl, when asked how she liked her party, shrugged and said, "It was fun, I guess."  Trust me. That means she liked it. She's subtle like that.
This party was for my Aspie. I was worried. Turnout for a summer birthday party isn't the greatest, especially when the birthday falls two days after the Fourth of July. That's stressed Mikey in the past. "What if nobody comes?"
Ouch.
I held my breath when I asked what he wanted to do for his birthday this year.  He didn't hesitate.
"I want to go see The Amazing Spiderman and go out to eat and I want Noah to come with me."
Whew.  A movie and dinner with a kid I know would come.
"Where do you want to eat?'
"Burger King."
Burger King?  Really? Alrighty then.
"What kind of cake do you want?"
"A map of the world."
I love this kid. He made it so easy on me. A sheet cake with a drawing of the world. Easy peasy, right? Well, kind of. I had to do it free hand while looking at a picture. As usual, my kid got the short end of the cake decorating stick. Their cakes are always so…shoddy.
He liked it. Though he did point out that I forgot a body of water to separate the too small Africa from Eurasia, Alaska looks like a hawk's head, and Italy in no way resembles a boot. All valid points and he was gentle about it. He's a good kid.
He got everything he asked for–a super impressive Atlas (geography buff), a watch, and a gift card to Game Stop. Again, he made it easy on us.
He was funny on his birthday. Everything we did was "the first time I've done this as a 12-year-old." I took him to the beach. "This is the first time I've been to the beach this summer AND as a 12-year-old."  We had pizza for dinner. "This is the first pizza I've eaten as a 12-year-old."  You get the idea. I'm glad that only lasted for a day. As funny as it is, I really didn't want every minute experience commented on in that manner. "This is the first time I've eaten lasagna/hamburgers/ice cream/a ham sandwich/a bowl of Captain Crunch as a 12-year-old."
So birthday number three is in the books and it was a success. Next up is Billy, the soon to be seven-year-old. He's going to say Chuck E. Cheese or Jumping Jacks. I'm prepared for it. I have no idea what kind of cake he'll ask for. I'm sure it will be difficult and he'll want it just so. I'm really gonna have to step up my game on that one.
Related Posts:
A Birthday Party at the Commune
Three Cakes 
The Leaning Tower of Rapunzel 
The Lego Head Cake Debacle